Main content starts here, tab to start navigating
Julie Carrion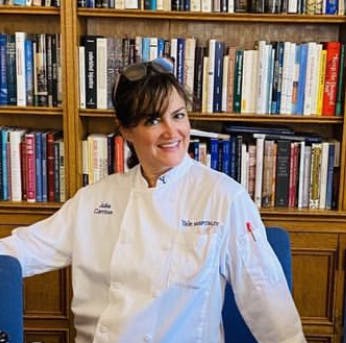 Julie spent the early years of her culinary career in New York City cooking with "Top Chef Master" Anita Lo, and then Montreal-based chef Normand Laprisse of Toque, before accepting a position at the Restaurant Daniel, the year that Daniel Boulud won back his coveted fourth star from the New York Times.
In Austin, Texas, she worked at the acclaimed Jeffrey's Restaurant and later was the chef and co-owner of Full Spoon Catering. She served as Director of Catering and Executive Chef for a culinary non-profit called The Kitchen at Billings Forge in Hartford. There she created a job-training curriculum for underserved communities, opened two bakery cafe locations, and an off-premise catering business that quickly became the preferred caterer for the Wadsworth Athenaeum, the Governor's Residence, and many other offsite venues.
After nearly a decade with Yale University as the Executive Chef of Yale Catering, where she catered to elite guests of the university and Yale's President, Julie brings her passion for perfect food and extraordinary service to Chef's Dinner Table as our Culinary Director and chef-in-residence.
David Kasinos
David Kasinos is a professionally trained chef who, after graduating from culinary school, traveled the world working in some of the finest Michelin Star restaurants from Paris to New York City. After spending years of his life in gourmet kitchens, David decided to change his path and focus on a more personal direction in the food world. Building off of his love of creating catered culinary experiences for private events, David started a boutique catering company that specializes in memorable culinary experiences. His passion for creative events ensures David Kasinos will provide a one of a kind dining experience.
David Kirschner
See David in action at Chef's Dinner Table!
David Kirschner life has always centered around food, visiting local farm markets, and spending time with family around the table each night. After completing an internship at Per Se in NYC, he completed a B.S. in Culinary Nutrition at Johnson & Wales, and accepted a Chef de Partie position with Michael Mina to open SeaBlue at the Borgata in Atlantic City. His other accolades include the W Hotel in Hoboken and Bar Boulud, where his excitement for private dining and empowering chefs took flight. Inspired by his extensive experience entertaining clients, David found inspiration to launch dineDK, a boutique private dining company specializing in custom culinary experiences and private chef staffing services.